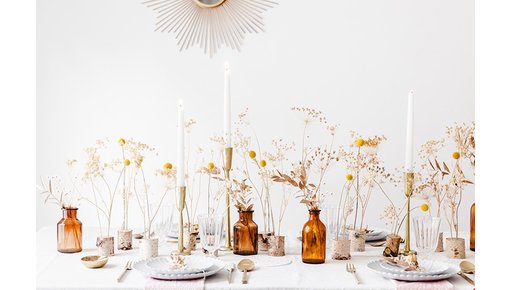 Trend alert: dryflowers
Dried flowers give any room an atmosphere and a traditional feel. They radiate simplicity and durability. This makes them a perfect match for the 'slow living' living trend.
Dried flowers... You can't get around it anymore. They are hotter than hip and hotter than hot. They come in all colours, shapes and sizes. Our favourite? Our self- and lovingly composed dried flower bouquet, of course. Although the letterbox of dried flowers is also totally crazy, not to mention our dry flower gift box. You can read it already.... There is so much and they are so much fun! But did you know that dried flowers also fit in perfectly with the so-called slow living trend?
Don't worry too much.... Slow down
Love for slow living! We'll summarize it up for you: the slow movement is all about simplicity. In our busy life it can all be a bit less every now and then. Less activities, less stuff. Just nice and slow. In 2019 we'll be taking more time for ourselves and investing time in small everyday things. The dried flowers fit in perfectly with this trend.
Although the dried flowers currently fill most of the Instagram feeds, it is impossible to imagine our interiors without the Pampas creeky feathers. Last year we lovingly put these fluffy stems in our hearts. Do you already have a set of Pampas dried grass in your home?